首页
/ 关于万丰 / 公司简介 | Profile
昆山万丰电子有限公司
昆山万丰电子有限公司位于沿海著名的金融中心—上海与吴越古都—苏州之间的昆山周市镇清华启迪科技园环球路189号,距上海虹桥机场70km,毗邻G15沈海高速公路、S48绕城高速公路,交通十分便利。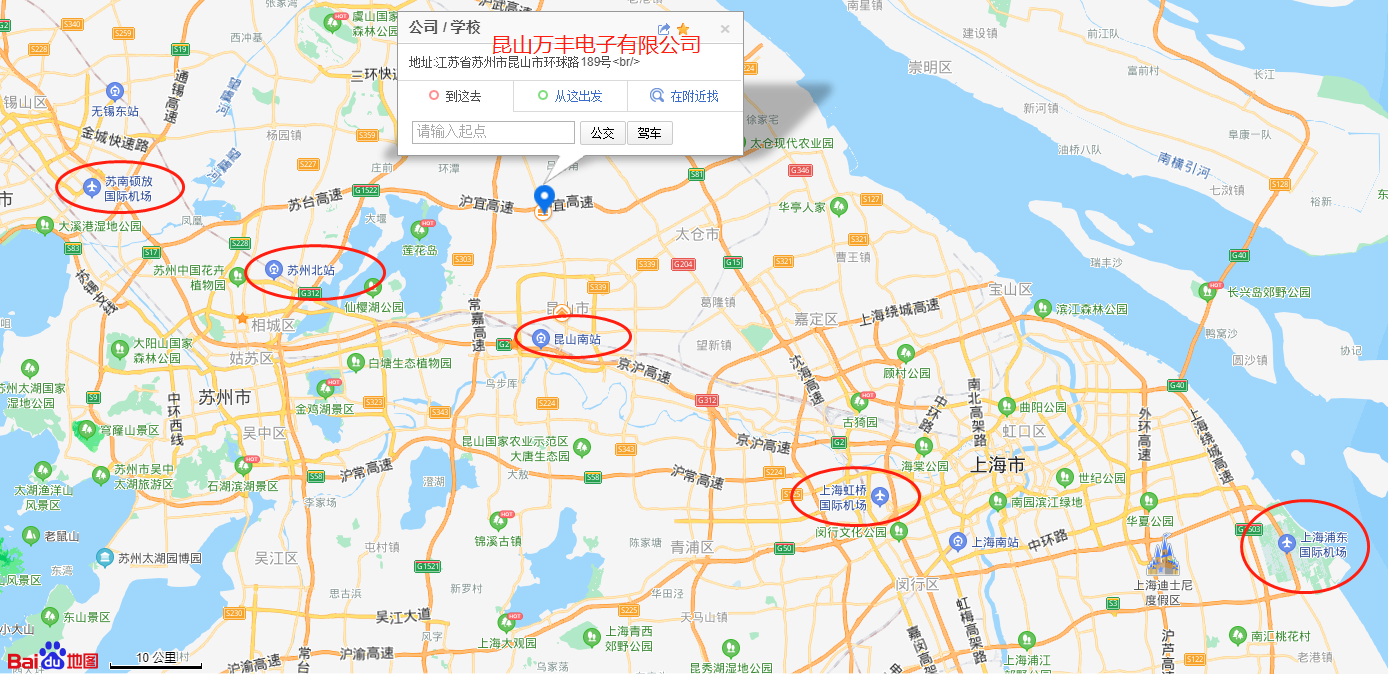 公司于1990年年底正式成立,初期全套引进日本、美国的先进生产线及测试设备,历经三十多年的技术创新和设备改造,掌握了先进的瓷介电容器与压敏电阻器芯片生产工艺和技术。产品质量符合GB标准,并满足美国EIA标准。目前低压、中高压和安规瓷介电容芯片共计600余种, 月产4亿片以上;氧化锌压敏电阻器100余种, 月产5000万片以上。产品行销全国并远销东南亚各国,成为国内最大的瓷介电容器与压敏电阻器芯片专业生产厂家。

公司一贯坚持求实创新、用户至上的原则,牢固树立"以质量求生存"思想,严格推行ISO9001:2015质量管理体系,保证了产品各项技术性能均优于国家标准!同时,公司以良好的售后服务赢得了广大用户的青睐。公司获得了诸多荣誉,先后被评为昆山市"科技进步先进企业"、"江苏省高新技术企业"、"苏州市和谐企业", "苏州市瓷介电容器工程技术研究中心"。公司先后通过ISO14001:2015环境管理体系认证、GB/T 33000-2016企业安全生产标准化体系认证,从而使得公司的管理上了一个新台阶。

"优质、高效、双赢"是公司的经营理念,我们愿以全方位的优质服务与各地用户共创佳绩。

Lying between Shanghai—China's International Financial Centre City and Suzhou—Wuyue Ancient Capital, Wanfeng Electronics Co., Ltd is located in No 189 Huanqiu Road Zhoushi Town Kunshan City Jiangsu Province in the Tsinghua Enlightenment Science and Technology Park. WANFENG enjoys extremely convenient transportation, 70 km from Shanghai HongQiao International Airport, adjacent to the G15 and S48 Expressway.

WANFENG was formally founded at the end of the year 1990. We imported complete sets of advanced production line and equipment from Japan and America at the beginning time. We promote technological innovation and equipment upgrading continuously in the past more than twenty years and dominate the most advanced procedure and techniques on the Ceramic Element for Capacitors and ZnO Varistors. Our products come up to the GB standards and the EIA requirements. For the Capacitors, the monthly output is more than 400 million pieces and the specification is more than 600 varieties, including low-voltage,medium-voltage and high-voltage disk capacitors. For ZnO varistors, the monthly output is over 40 million pieces and the specification is more than 100 varieties. These products are selling well both at home and abroad such as HongKong and Southeast Asia. WANFENG has become the biggest in China special manufacturer of Ceramic Element for Capacitors and ZnO Varistors.

WANFENG consistently upholds the principles of being realistic, making innovations and customers supreme, firmly adopts the idea of striving for victory by quality and strictly carries forward the ISO9001:2015 quality management system. Therefore, we ensure the product performance exceeding the national standards and wins favors from customers by perfect after-sale service. WANFENG was successively chosen as the "Advanced enterprise in scientific and technological progress" by Kunshan city, "Harmonious enterprises" by Suzhou City ,"Suzhou ceramic capacitor Engineering Technology Research Center" and "High and new tech enterprises" by Jiangsu Province. What's more, we pass the certification by ISO14001:2015 Environmental Management System and GB/T 33000-2016 Safety standardization of enterprises.

"Efficiency, High quality and Winwin Strategy" is our management principle. We wish to create good partnership with customers by our overall excellent products and service.